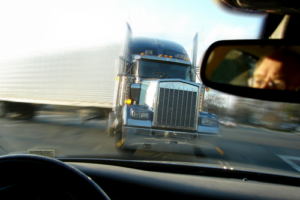 SUVs are a deadly threat to pedestrians when accidents occur, but tractor trailers pose a nearly constant danger to SUVs and cars on the road. The National Highway Traffic Safety Administration reports that in crashes involving large trucks over 4,300 people were killed in 2016. This is a 5.4 percent increase from the year before. The sheer size of big rigs is intimidating to most drivers, but there are many reasons both truck drivers and motorists of sedans contribute to truck accidents.
Insufficient Safety Mechanisms
While car manufacturers are increasingly improving safety features in sedans and passenger vehicles, such as automatic emergency braking systems and forward-collision warnings, plenty of commercial trucks are lacking the same capabilities. The increase of crash-avoidance systems like blind-spot warnings, lane-departure warnings, and stability control could prevent accidents and, in some cases, at least reduce the severity of them.
Oversized Vehicles
Truck accidents can be catastrophic because of the size and weight of the big rigs. The Department of Transportation identifies that where a typical sedan can be about 16 feet long, a semitrailer can be around 75 feet long and weight up to 80,000 pounds. A big rig that tows trailers can be up to 105 feet long. It is perhaps even more important for tractor trailers than cars to be equipped with safety mechanisms.
And it isn't just technology that can minimize accidents. If a collision does occur, improved trailer guards could prevent cars from sliding underneath a big rig in a crash. Lowered speed limits for trucks could also be an effective way to make highways safer.
Bullying on the Road
Though research has shown that drivers of passenger vehicles can sometimes be a greater contributor to truck accidents than the truck drivers themselves, this does not mean drivers of tractor trailers are innocent. Some truck drivers aggressively bully motorists with the size of their rig, preventing merging and passing. A collision with a truck driver, no matter how you look at it, can easily be a fatal accident.
Unsafe Driving
Some truck drivers, though they are not opposed to upgraded safety systems, believe that skilled, defensive driving is always more important than driving technology. This experience, however, begins with proper education and training, and it continues with making safe choices on the road.
Commercial truck drivers have a schedule to keep, and these long shifts require them to be behind the wheel for lengthy periods of time. Fatigue is one of the biggest threats to truck driver and car driver safety. And, of course, there is distracted driving. Even though truck drivers and motorists alike are behind the wheel, many are easily torn away from the task at hand by smartphones.
Were You Involved in a Michigan Truck Accident?
Any auto accident is terrifying, but a collision with a tractor trailer can be even more horrifying, and deadly. If you have been injured or a loved one has been killed in a truck accident, contact an experienced Michigan truck accident lawyer at Thurswell Law. Your consultation is free and we do not charge any fees unless you collect. Call (248) 354-2222 today.