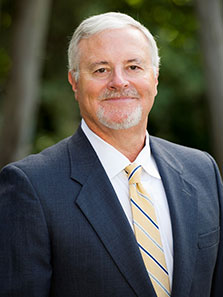 Euel W. Kinsey, Attorney, Thurswell Law
For more than 32 years, Euel W. Kinsey, has focused his practice in representing victims of medical malpractice and auto negligence. His practice includes representing children and their families who sustained injuries during the birthing process as a result of negligence. Over the years, he has recovered millions for his clients. Thus far, Mr. Kinsey's largest verdict was more than $21 million for a child injured at birth in Milwaukee Wisconsin.
Mr. Kinsey is licensed to practice and active in Michigan, Wisconsin, Pennsylvania, Tennessee, Arkansas, Mississippi, and Texas. In addition, he is admitted to practice before the United States Supreme Court, the 5th & 6th Circuit Court of Appeals, and many Federal District Courts. Mr. Kinsey has also had extensive experience and success representing military service members, veterans and their families who have been victims of medical malpractice. He has also successfully represented many victims of medical malpractice who were treated at Federally Funded Qualified Health Centers.
Mr. Kinsey has received several awards and recognitions. Since 2000, he has consistently received an AV Preeminent rating with Martindale-Hubbell, a peer reviewed recognition of high legal ability and ethical standards. Since 2010, Mr. Kinsey has been recognized as a Super Lawyer by Thompson Reuters. Each year, no more than 5% of the lawyers in Michigan are selected by to receive this honor. He has been recognized by Crain Business as a Top Attorney in Michigan, and as a Top Lawyer in Metro Detroit by Hour Detroit dBusiness, and the New York Times.
Mr. Kinsey earned a Bachelor in Business Administration from the University of Michigan, with a Minor in Economics (1981), and his Juris Doctorate from the University of Detroit School of Law (1984). He is an adjunct professor at the University of Detroit Mercy Law School where he regularly teaches Medical Malpractice.
Mr. Kinsey is a member of the Michigan and American Associations of Justice and is an active member of the Birth Trauma Litigation Group. He is also a member of the Negligence Section for the State Bar of Michigan and has served on the council for the State Bar of Michigan, Aviation Law Section, and is currently serving as the Chair. Mr. Kinsey reviews and evaluates cases in both Wayne and Macomb Counties as a member of the Case Evaluation Tribunals.
Mr. Kinsey is an accomplished Pilot and is very interested in aviation related issues. He was appointed to the National Advisory Board for the AOPA, ASN Program and currently serves as the Chair of that group. In 2005, Mr. Kinsey was awarded the Laurence A. Sharples Perpetual Award, a National recognition by the AOPA in recognition of his advocacy and work to preserve the Coleman A. Young International Airport. Mr. Kinsey enjoys using his airplane to travel to distant places for business. In addition, he routinely participates in Operation Good Cheer, an annual event where Christmas Presents are delivered.
Over the years, Mr. Kinsey has given back to his community in many ways. He served as a Trustee for the Chippewa Valley School Board, and has sat on various other Non-Profit Boards, including serving many years as a Board Member of Lifeline Pilots, an organization dedicated to providing free transportation for patients who require distant medical treatment. He served as the Chair of Lifeline for two years. He has lectured to EMTs, paralegals and firefighters.
Mr. Kinsey is avid motorcycle enthusiast and enjoys music. He is both a musician and singer. He is a member of a Barbershop Chorus and Coda Honor Quartet. He also sings with the Forum Shoppers, a quartet comprised of attorneys who perform around the State of Michigan, singing an unusual variety of songs including satires about lawyers and judges, as well as conventional barbershop arrangements and gospel numbers. For six consecutive years their group has had the honor of singing the national anthem at Comerica Park for the Detroit Tigers.