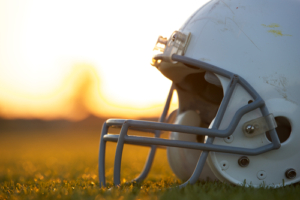 Washington State backup quarterback Tyler Hilinski was slated to be his team's starting quarterback heading into the 2018 college football season. But in January 2018, Hilinski took his own life, and it was recently revealed that the 21-year-old suffered from chronic traumatic encephalopathy, the traumatic brain injury more commonly known as CTE.
CTE is a degenerative brain disease often found in athletes, members of the military, and people who have a history of repetitive brain trauma. The protein known as Tau forms clumps that kill brain cells by spreading slowly throughout the brain.
There has been a focus on CTE in relation to professional football players, many of whom requested their brains be donated to research after their death. What is disturbing is how many of these athletes are posthumously diagnosed with CTE. As of right now, this life-altering brain injury can only be diagnosed through an autopsy.
The Death of a Young Quarterback
What Hilinski's case sheds light on is just how lethal any blow to the head can be. Hilinski was suffering from the lowest level of CTE, Stage 1. He was only 21 years old, had not played much college ball, and in earlier years played in the most protected positions on the football field. In short, as a Sports Illustrated article states: "If he had CTE, anyone could."
Hilinski never missed game time because of a confirmed concussion, and he played fully uninhibited. It is suspected that Hilinski suffered a concussion as a college freshman, explaining to his mother that he had endured a hit that "rocked him." Still, he was never benched for a head injury. Many ballers, whatever their sport, are often proud to take a hit and get right back up from it.
But suffering a concussion or other brain injury is not a sign of weakness. It's a sign that something is not right and needs to be repaired. Head injuries are real and detrimental. Not taking the time to recover from a head injury can lead to greater complications. There is no way to know just how many hits of significance Hilinski endured, but it is reasonable to assume that CTE contributed to his death by suicide.
Signs of a Traumatic Brain Injury
Hilinski's mother needed to know what was behind her son's choice to take his own life. The brain autopsy conducted by the Mayo Clinic confirmed the CTE diagnosis. His mother was told that her son's brain looked "like that of a much older, elderly man." Early stages of CTE often present as depression, and the symptoms only get worse as the disease progresses.
Like other traumatic brain injuries, the side effects of CTE can range from physical problems to neurological complications. The more severe the case, or the suspicion of CTE, the more extreme and pervasive the symptoms. The cognitive side effects of a TBI are not always easily recognized and can masquerade as other afflictions or be symptomatic of other health problems. A delayed diagnosis of a brain injury, however, can affect a person's ability to fully recover.
Emotional and behavioral issues are common for sufferers of CTE. Mood disorders, risky behavior, depression, anxiety, anger, apathy, inability to concentrate, and impulsivity can all be caused by a traumatic brain injury. A traumatic brain injury can be treated, but stopping the the progression of CTE requires early diagnosis of the disease and, as of now, that is impossible.
If someone you love has suffered because of a traumatic brain injury caused by a blow to the head, a car accident, or other preventable situation, contact Thurswell Law for a free consultation to discuss your case. You may be entitled to compensation for your pain and suffering. We do not charge any fees unless you collect. Call (248) 354-2222 today.