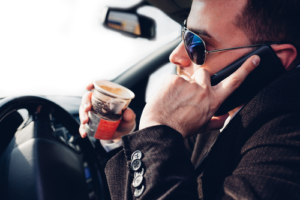 If you know you did nothing wrong in a car crash and the other person is at fault, it's not just enough to say so. The legal concept of negligence is often the basis for establishing who is at fault in a Michigan car accident. Proof and evidence are necessary if you file an insurance claim or sue the at-fault party.  
Understanding Negligence in a Car Accident
As with all personal injury cases that involve a claim of negligence, it is necessary for your car accident lawyer to prove that the defendant was negligent in their actions. There are four questions that must be answered in this kind of case:
Did the driver have a duty of care? All motorists are obligated to follow the rules of the road. They have a responsibility to drive safely so they avoid potentially harming another person.
Did the motorist breach that duty? The average person would not drive drunk or text while driving. The average person would not drive recklessly or at high rates of speed. If a reasonable motorist under similar circumstances would not act as the defendant acted, a car accident could have been avoided and, therefore, the resulting harm and injuries.
Did the at-fault driver's action or inaction cause an injury? If the choices a motorist makes or chooses not to make while driving directly cause an injury, that is part of the negligence claim. A motorist may be at fault for an accident, but it may not necessarily be because of negligence but rather forces beyond their control.
Can that injury or harm be remedied with monetary compensation? If the at-fault motorist's negligence led to a victim's injuries or damage to their vehicle and that problem can be remedied with financial compensation, that furthers the negligence claim.
Examples of Negligent Driving
In the simplest terms, negligence is when a person has behaved carelessly or thoughtlessly and hurt someone in the process. Here are just some examples of negligence as it relates to driving:
Speeding
Running a red light
Texting while driving
Failing to yield
Failing to stop for a pedestrian
Not using headlights while driving at night
Not following at a safe distance
Keeping a poorly maintained vehicle
Not stopping for school buses
Not slowing in construction areas
Driving while intoxicated
Distracted driving
Drowsy driving
If the driver injures someone while doing any of these things, they can be liable for the person's injuries, including medical care, rehab costs or equipment, ongoing medical problems, and hospital bills. Further damages could include property repair, lost wages, pain and suffering, and loss of the quality of life.
When to Get Help After a Car Accident
There are always things that should be done at the scene of a car crash – calling the police, getting medical care, collecting photo and video evidence – including knowing when to contact your Michigan car accident lawyer.
Speak with an auto accident attorney who has the experience to take on your negligence case, and who knows whether it is worth your time and effort to sue the at-fault party in your Michigan car accident. Contact Thurswell Law for a free consultation to discuss your case. We do not charge any fees unless you collect. Call (248) 354-2222 today.