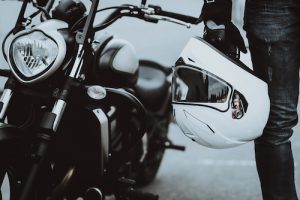 Warm weather has arrived, and from Traverse City to the Pictured Rocks National Lakeshore, motorcyclists are out on the roads of Michigan. In May 2017, Michigan had 242,476 registered motorcycles. In that same year, motorcycles were involved in 2,964 crashes.
Many factors contribute to motorcycle accidents, including hazards created by other drivers, poor decisions by the motorcyclist, and the weather, but one important factor in injuries and fatalities is helmet use. Head injuries are the leading cause of death in motorcycle accidents. According to the Insurance Institute for Highway Safety, helmet use is about 37 percent effective in preventing motorcyclist fatalities and about 67 percent effective in preventing head injuries.
Helmet laws vary from state to state. However, because of the effectiveness of helmets, most states require at least some motorcycle riders to wear helmets. In Michigan, the laws on helmets have fluctuated over the years. In 1967, to comply with the U.S. Department of Transportation's requirements for federal funds, Michigan enacted its first Universal Helmet Law. Michigan first repealed and then reinstated the law. Finally, in 2012, the current law was enacted. It is important for all motorcyclists to understand the law in Michigan regarding helmets, as well as the risks of not wearing a helmet. Current Michigan law permits motorcyclists to choose whether or not to wear a helmet, provided they meet certain conditions.
Helmet Law in Michigan
According to Michigan law, a motorcycle operator who chooses not to wear a helmet must:
Be at least 21 years old.
Have a minimum of $20,000 in first-party medical benefits.
Have possessed a motorcycle endorsement for at least two years, or have passed a state-approved course in motorcycle safety.
A motorcycle endorsement is a credential added to an existing state drivers' license. It states that the rider is legally allowed to ride a motorcycle on public roads. To obtain the endorsement, the driver must pass certain skill-driven testing, as well as a vision test, to add the credential to their standard driver's' license.
Motorcycle passengers are subject to different rules than motorcycle operators. All riders, including passengers, must still wear a helmet until they are at least 21 years old. After they have reached the age of 21, passengers may choose to go without a helmet if they have at least $20,000 in first-party medical insurance, not including the insurance coverage of the driver. People younger than 19 years old who are operating a moped on a public road must still wear a helmet.
How Does the Helmet Law Affect Accident Claims?
In general, a motorcycle operator or passenger who suffers a serious injury in an accident involving a motor vehicle has a right to pursue a personal injury claim against the at-fault driver. These liability claims may include excess economic loss damages, such as loss of income in excess of the three-year PIP benefit period and damages for non-economic loss, such as pain and suffering, disability, loss of function, and denial of social pleasure.
Such liability claims fall under the law of comparative negligence, which provides that the percentage of negligence attributable to the injured person will reduce the liability damages recoverable by the injured person. This doctrine compares the injured person's actions with the actions of the at-fault driver. If the injured person's negligence is more than 50 percent of the total cause of the accident, the injured person would not be entitled to compensation for non-economic loss damages.
If the motorcycle operator or passenger is riding without a helmet in violation of the helmet law, the insurance company for the at-fault driver may argue that the violation of the helmet law means the injured person was comparatively negligent, thereby allowing the insurance company for the at-fault driver to reduce the damages owed to the injured person. If the injured motorcycle passenger or operator is legally riding without a helmet, the at-fault driver's insurance company may still maintain that the injured person was comparatively negligent, because riding a motorcycle without a helmet is dangerous, even if it is legal. Therefore, motorcycle operators and passengers may have their liability claims reduced under the doctrine of comparative negligence, because not wearing a helmet resulted in a more serious injury than if the rider had been wearing a helmet.
Even if the motorcycle operator or passenger was riding without a helmet in violation of the law, they might still be able to receive first-party medical benefits or no-fault PIP benefits. However, if a motorcycle operator or passenger has not obtained the first-party medical benefits required by the helmet law, those benefits would not be available to an operator or passenger in the case of motorcycle accidents which do not involve other motor vehicles.
Other Safety Considerations
The Motorcycle Safety Foundation recommends wearing an approved helmet. They also suggest protective clothing such as a long-sleeved jacket, long pants, safe footwear, and motorcycle gloves.
Choose protective eyewear. Vision protection is mandatory in Michigan, so you should choose your vision protection before buying your helmet. If you prefer not to wear goggles or eyeglasses, purchase a helmet with a face-mask.
It is important to buy the best possible helmet and make sure it fits. Make sure your helmet meets the minimum safety standards as evidenced by a DOT or Snell certified sticker.
When shopping for a helmet, familiarize yourself with protection features. The outer shell usually consists of fiber-reinforced composites. This construction allows the material to contract upon impact and protect the rider. The impact-absorbing layer, usually made of foam, absorbs additional shock and deflects your head from the blow. The comfort padding is the innermost layer. It ensures a proper fit. The chin strap holds the helmet in place.
Michigan permits bluetooth motorcycle helmets, but be sure to review the safety pros and cons before deciding to wear one.
Have your helmet correctly fitted at a trustworthy shop. The helmet should be slightly snug.
Replace your helmet when needed. If your helmet is starting to feel loose, the foam may be wearing down.
If you ever have questions about your helmet, take it to a professional for help.
If you were injured in a motorcycle accident, you must speak with an experienced, dedicated Michigan personal injury attorney right away. For more information or a free consultation, contact us at Thurswell Law online or call (248) 354-2222. We can help ensure you receive justice.