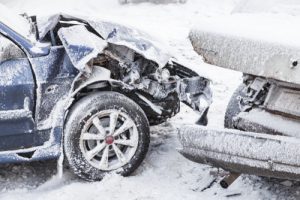 Even if you are a Michigan native who is no stranger to snowy and icy roads through the winter months, your vehicle is never evenly matched with Mother Nature. New stats show, in fact, that Michigan is the most dangerous state for winter driving, with almost 50 car accident road deaths every year.
Deadly Winter Roads in Michigan
Personal finance website Moneygeek.com analyzed data from the National Highway Traffic Safety Administration that tallied winter driving fatalities reported to the agency between 2015 and 2017.
Every year, over 1,300 people are killed and nearly 117,000 people are injured in car crashed on snowy, icy, or slushy pavement. According to the Federal Highway Administration, more than 70 percent of the nation's roads are in snowy areas.
Pennsylvania is the runner-up for winter road deaths, but Michigan has them beat by nearly 20 deaths. The remainder of the top 10 dangerous winter driving states are New York (29 fatalities), Ohio (26), Colorado (17), Indiana (17), Minnesota (17), Wisconsin (17), Illinois (15), and Texas (12). Though the Lone Star state doesn't see much snow, when they do get it, drivers are unaccustomed to it and do not manage it well.
Michigan's Worst Winter Roads
The Michigan roadways that were home to the most winter car crashes from 2014 to 2018 – the majority of them freeways – include:
Paw Paw: Eastbound I-94 between 41st Street and Paw Paw Road
Flint:Northbound I-475 between Atherton Road and South Grand Traverse Street
Polkton:Eastbound I-96 between the I-96 crossover and 68th Avenue
Hartford:Westbound I-94 between 66th Street and North County Line
Hartford:Westbound I-94 between County Road 681 and 62nd Street
Wright:Westbound I-96 between 24th Avenue and 48th Avenue
Wright:Eastbound I-96 between 48th Avenue and 24th Avenue
Comstock:Sprinkle Road between Michigan Avenue and East Main Street
Wyoming:Southbound US-131 between 44th Street entrance ramp and 54th Street exit ramp
Antwerp:Eastbound I-94 between County Road and 30th Street
Protect Yourself from a Winter Car Accident
Bad driving habits compound the automatic threat that develops when bad weather hits. A Michigan State Police analysis found that about 65 percent of the winter car accidents in the state were linked to drivers who were going "too fast for conditions." Add in tailgating and reckless driving and you have a recipe for a rear-end collision.
Distracted driving is a big problem with mobile phones keeping drivers' eyes off the road. And, of course, drunk driving remains an ongoing threat to all motorists, but operating a vehicle while under the influence is even more deadly when weather conditions are bad and road conditions can be poor or uneven.
If you have been involved in a car crash because of another driver's negligence, lost a loved one in a wrongful death vehicle accident, or you are fighting with the insurance company after a winter storm caused your auto accident, contact the Michigan personal injury attorneys at Thurswell Law to get the compensation you deserve. Schedule a consultation by calling (248) 354-2222 today. We do not charge any fees until we win.