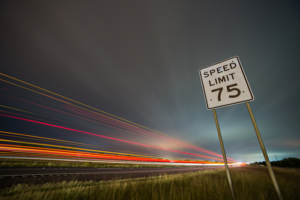 Speed is often a factor in fatal car accidents. New research conducted by the Insurance Institute for Highway Safety (IIHS) found that over the past 25 years, 37,000 people have been killed in car accidents because of increased speed limits. The higher posted speed limits encourage motorists to put their foot on the gas, and that permissiveness is turning out to be deadly.
The Failed Logic in Raising the Speed Limit
Being able to get somewhere faster because of increased speed limits is attractive to many motorists. Just because something is permitted, however, doesn't mean it's a good idea. The IIHS found that a 5mph increase in speed limit causes an 8% increase in death rates on freeways and interstates. Deaths on other roads increase 3% when the speed limit goes up.
The rationale behind increased speed limits? Apparently, the goal is to "bring law in line with reality," according to IIHS, "since most drivers exceed the limit" anyway. The logic is skewed, however. If drivers already exceed the posted speed limit, they will go even faster than the newly posted speed limit. Then, they're driving at even deadlier speeds.
The National Highway Traffic Safety Administration found that over 9,700 people were killed in speed-related crashed in 2017 – this accounts for more than 1 in 4 roadway deaths.
Speed and Bad Driving Behaviors
Complicating the danger of increased speed limits is driver behavior. Distracted driving has always been a problem – dealing with kids in the backseat, eating while driving, trying to navigate, putting on makeup – and, now, of course, there is the deadly habit of texting or using a phone while driving.
Drunk driving, of course, is also compounded by speed. If an intoxicated driver has awareness of a posted speed limit, a higher speed limit will only make their presence on the road that much more lethal.
The problem with a raised speed limit is that, once it's been bumped up, getting it moved back down is unrealistic. As a result, car accidents increase, roadway deaths go up, and car accident lawsuits follow.
Protect Yourself from Other Motorists
There is nothing you can do about the behavior of other motorists, but you can control your own driving behavior – and that includes strengthening your defensive driving.
Put away the distractions. Rule number one of driving is to pay attention – and that means pay attention to the task at hand. You should have nothing taking your focus away from driving, looking in your mirrors, keeping alert. Put your phone down. Prep for the trip as much as you can before you get on the road so you're not trying to distribute things to your kids in the back seat or deal with a navigation app while you're moving.
Don't drink and drive. If you've had a drink, do not get behind the wheel. It's that simple.
Obey traffic laws. Follow the speed limit, stop at stop signs and traffic lights, slow down, watch for curves, stop for pedestrians. You know what you're supposed to be doing when you're behind the wheel, so do it. Protect yourself and others.
Watch for speeding, intoxicated, and distracted drivers. It's your job as a driver to do everything right behind the wheel, but it's also your job to pay attention to what other drivers are doing – in front of you, behind you, everywhere around you. Steer clear of the people who are swerving, allow aggressive drivers to pass you by, don't engage with angry drivers.
Temper your road rage. Anger on the highway is inevitable, even for the calmest among us. When your frustration turns into severe road rage, however, anything could happen. Tailgating someone, passing illegally, or being distracted by your anger can lead to an accident in an instant.
If you have been in a car accident because of a speeding driver or lost a loved one in a speed-related car crash, schedule a consultation with Thurswell Law by calling (248) 354-2222 today. We do not charge any fees unless you collect.