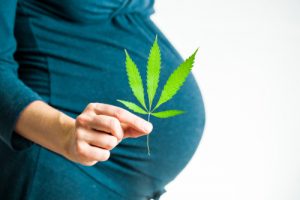 In the 1950s, it wasn't hard to find a pregnant woman who smoked cigarettes and drank regularly without giving these behaviors a second thought. Doctors even smoked in the exam rooms during prenatal visits. Smoking was, indeed, the thing to do. Smoking, however, is now known to increase the risk of health problems, birth defects, and premature births. If a pregnant woman smokes cannabis, does she face the same potential side effects? One study says yes.
Stats About Cannabis Use and Premature Birth
With cannabis recently legalized in Michigan and consistently touted for its medicinal benefits, many people are taking advantage of the dispensaries that are popping up all around. According to a recent Canadian study from the Ottawa Hospital Research Institute and published in the Journal of the American Medical Association, however, cannabis use during pregnancy may increase the risk of early delivery.
Of the 661,617 pregnancies in Ontario that were evaluated, 9,427 women said they were cannabis users. Of these women, 12 percent experienced preterm births. Six percent of non-cannabis users experienced preterm birth. For the women who used cannabis only and no other substances, the preterm birth rate was 9.1 percent.
There are, however, extenuating circumstances and additional risk factors among the women who used cannabis during pregnancy:
59% of women also used tobacco.
Almost 20% of the women used alcohol.
11% admitted to also using opioids.
The Medicinal Benefits of Cannabis
Do you have to smoke cannabis for it to be harmful? What if you ingest it in other ways, like edibles? The study did not account for different forms of marijuana but focused on the premise that cannabis and pregnancy may not mix.
Veteran users of marijuana can quickly tout the medicinal benefits of this plant, particularly the perks that come from the cannabinoids cannabidiol and tetrahydrocannabinol (THC). Believers in the benefits of cannabis are not wary of using marijuana to cure their ills and pains.
Pregnant women are a demographic that experiences unique discomfort, and in lieu of prescription drugs, even those okayed by their obstetrician, may turn to cannabis for relief from morning sickness and other pregnancy-related aches and pains.
Recent evidence suggests that cannabis use during pregnancy is increasing. But at what risk?
Cannabinoids can cross the placenta and enter the fetal bloodstream.
Studies have shown associations between cannabis consumption during pregnancy and the incidence of stillbirth, lower birth weight, small for gestational age, and increased admission to the neonatal care unit.
Did You Suffer a Personal Injury in Pregnancy?
Did your doctor prescribe or recommend cannabis for pain relief or relaxation during pregnancy? Did you end up having a premature delivery? Medication errors happen every day in prenatal care. It is the job of your doctor to provide a standard of care so you have a healthy pregnancy and complication-free delivery.
If you or your child suffered a prenatal, birth, or postnatal injury because of someone else's negligence, contact the Michigan birth injury lawyers at Thurswell Law to get the compensation you deserve. Schedule a consultation by calling (248) 354-2222 today.