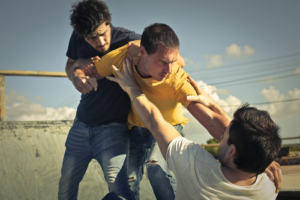 Sandor Szabo was punched in the face, fell, and hit his head on the pavement. He lost consciousness, suffered facial fractures and skull fractures, and experienced bleeding in his brain. Two days later, he was taken off life support and died. Szabo was drunkenly tapping on cars in Long Island City looking for his Uber when he suffered the fatal punch, making for a horrific story and clear example of wrongful death.
Wrongful Death in One Punch
Szabo, a 35-year-old resident of South Florida, took his death blow from Wake Forest University assistant basketball coach Jamill Jones when he was visiting NYC for his stepsister's wedding. According to NYC police, a "confrontation" between the two men led to Jones punching Szabo.
Jones fled the scene but later turned himself in. He has been charged with third-degree assault, a charge that could be increased during his upcoming court appearance. The medical examiner's office determined that Szabo died because of blunt impact to the head, and the incident is now being investigated as a homicide.
A Personal Injury Lawsuit Doesn't Require Criminal Charges
The sad tale of Sandor Szabo sheds light on the consequences of fights. Whether one person is throwing punches or both, whether one person is trying to stay out of the fight or both parties are invested in the outcome, injuries are possible and likely. Black eyes, broken jaws, brain injuries – anything can happen in a physical fight.
Whether the fight results in criminal charges against any of the people involved or not, if someone is fatally injured in the altercation, if there is an injury that was caused intentionally, recklessly, or negligently, a personal injury lawsuit has merit. If someone dies as the result of a fistfight, that can be considered a wrongful death.
Do You Have a Personal Injury Lawsuit?
There are many questions that must be considered and answered before a Michigan personal injury lawyer will help you pursue a lawsuit after fighting injuries, whether there was a fatality or not:
Who caused your injuries? If you're involved in a fight with multiple people, or with people you don't know, it's essential to identify the person directly responsible for the injuries you suffered.
Are you responsible for the fight? If you were the one who threw the first punch or threatened the other party, you must be prepared to face an argument of self-defense in court should you choose to file a lawsuit.
Did you suffer serious injury? Some injuries may be incredibly painful, or they may take a long time to heal, but not all injuries are worth the time and effort of a personal injury lawsuit. Injuries that did not require costly medical treatment, prevent you from working, or result in lost wages are not usually worth pursuing a lawsuit.
Do you have evidence? Proving that the other party or parties involved in the fight caused your damages is where a personal injury attorney can be of great help. Video evidence or eyewitness accounts are vital.
If you have been involved in a fight caused by another person, or you have lost a loved one to wrongful death, contact Thurswell Law for a free consultation. Our personal injury attorneys have the experience to get you the compensation you deserve. We do not charge any fees unless you collect. Call (248) 354-2222 today to schedule your consultation.