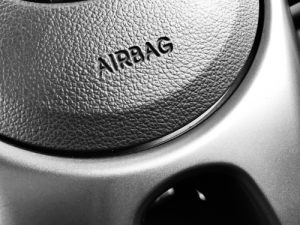 When airbags work, they save lives. Unfortunately, many airbags have failed to deploy in car accidents or have harmed motorists when deploying. Understanding the risks, benefits, and realities of airbags, as well as the urgency of airbag recalls, can protect you behind the wheel and your passengers.
The Pros and Cons of Airbags
A typical airbag deploys at 200 mph, according to the Insurance Institute for Highway Safety. At a speed that fast, people get hurt. But the hurt is often far less than the damage that could have been done had a motorist or passenger been thrown into the dashboard, steering wheel, or windshield. Instead of a life-altering traumatic brain injury or severe upper body injury, airbag injuries are typically minor and save lives.
Frontal airbags are standard equipment in cars since model year 1998 and in all SUVs, vans, and pickup trucks since model year 1999.
The National Highway and Traffic Safety Administration (NHTSA) estimates that airbags that deploy for a motorist who is always wearing a seatbelt reduces the risk of death in frontal crashes by 61 percent.
In frontal crashes, airbags reduce driver fatalities by 29 percent and front-seat passengers by 32 percent. From 1987-2015, nearly 45,000 lives were saved by frontal airbags.
Airbags are sophisticated safety tools and they can sense a crash within milliseconds of hitting an object or another car – in other words, they work in the blink of an eye.
Observing Airbag Recalls
In recent years, millions of vehicles have been recalled for defective airbags. The Takata airbag recall is one of the largest recalls and involved vehicles made by 19 different automakers. At least 24 people died because of airbags that deployed incorrectly or not at all, and 300 were injured. Over 41 million Takata vehicles – models from 2002 to 2015 – in the U.S. were recalled for faulty, explosive airbags that could injure or kill occupants in the vehicle.
Now under investigation is auto supplier ZF-TRW, which has installed over 12 million air bags in vehicles from Honda, Hyundai, Kia, Fiat Chrysler, Mitsubishi, and Toyota in models from 2010 to 2019. Airbags have failed to deploy in crashes that involved at least eight deaths.
As terrifying as these statistics are, nevertheless, the odds of surviving a severe crash increase if an airbag works as it has been designed to do.
Be a Safe Driver
There are other safety precautions that help motorists come through a major car crash.
Be proactive: If you receive a recall notice for a defective air bag, go to the dealership and get your car repaired as soon as possible. A defective safety product can't help you – and you can't depend on the idea that you're such a safe driver you'll never need such a tool to protect you. This repair is free and takes nothing but your time.
Wear your seat belt: This is a no-brainer and in modern cars should not even be an option since most people can't tolerate the dinging noise that goes off when a seat belt is hanging loose.
Know your risks: If you're short, you may be tempted to pull your seat as close as possible to the steering wheel. Try to maintain at least 10 inches between the steering wheel and your chest so you're not susceptible to the initial great force of the airbag.
Drive defensively: Don't get lazy behind the wheel or allow yourself to daydream on quiet roads or get in the zone on a busy highway. You have to look out for yourself, and be aware of your fellow motorists' behavior and how it could affect you.
You want your airbag to deploy when you need it. Better, of course, that you not need the airbag at all. If you have been injured in a car crash because of a poorly deployed airbag or other manufacturer error, contact the Michigan auto accident lawyers at Thurswell Law to get the compensation you deserve. Schedule a consultation by calling (248) 354-2222 today. We do not charge any fees unless you collect.