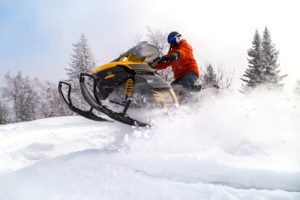 Michigan is the home of snow and ice, which means it's easy to find a snowmobile enthusiast. Although extreme sports give adrenaline-junkies their fix, these activities also come with great risks, and there are far too many snowmobile accidents on and off the snow-crusted trails.
Factors That Lead to Snowmobile Accidents in Michigan
Snowmobile accidents can usually be contributed to one or more of the following factors:
Speed: There are some snowmobile riders who are happy to move along at a reasonable pace, enjoying the scenery, the weather, the great outdoors. There are just as many riders, however, who relish the opportunity to move at high speeds. This behavior is one of the leading causes of fatal snowmobile accidents for both the operator and innocent bystanders.
Misuse: There are many types of snowmobiles, from performance to utility, crossover to touring. Each machine is intended for a certain kind of use. Since expanding from winter utility vehicles to recreational machines, snowmobiles are used for a variety of activities, and it's essential to use the appropriate machine for the activity, whether trail-riding, freestyle, or mountain climbing. Expecting more from your snowmobile than the capabilities for which it is designed can lead to disaster.
Intoxication: Drunk driving is an epidemic, and the same problem exists when it comes to snowmobiling. Alcohol is a major contributing factor to serious injuries and fatalities in snowmobile accidents, particularly during night riding. When intoxicated, riders' judgment, abilities, and reflexes are all affected, increasing the likelihood of a crash.
Inexperience: You may love the snow and ice, and you may be adept at snowboarding or ice hockey, but that doesn't mean that all winter sports come naturally. Snowmobiling is the operating of heavy machinery, sometimes at high rates of speed. When an operator is too young or inexperienced, the chance of an accident is far greater for those who are unfamiliar with how to deal with emergencies, unexpected terrain, or other hazards.
Insufficient protection: One of the biggest musts for snowmobilers is to wear the proper protective gear. You are not only protecting yourself against the elements, but from injury in case of a crash, just like motorcycle riders. Helmets are essential, but so are gloves, goggles, and proper winter clothing, designed for riding.
Equipment failure: In some snowmobile accidents, it's not the operator of the machine who is at fault but the manufacturer. Managing a flawless snowmobile is challenging enough, let alone trying to maneuver through the situations that a faulty piece of equipment can create.
Who Is to Blame for a Snowmobile Accident?
Snowmobile accidents can be serious and many take lives. From traumatic brain injuries to broken bones, spinal cord injuries to burns, the trauma can be severe and long-lasting. If you have been injured in a snowmobile accident through the negligence of others, whether a snowmobile operator, manufacturer, or trail operator, contact Thurswell Law for a free consultation. Our experienced snowmobile accident attorneys are prepared to get you the compensation you deserve. We do not charge any fees unless you collect. Call (248) 354-2222 today to schedule your consultation.