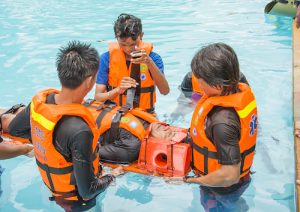 It's swimming pool season in Michigan. However, along with the fun, there are also commonly overlooked safety concerns. Swimming pool accidents frequently result in catastrophic and even fatal injuries.
The Centers for Disease Control, reports that drowning is the fifth leading cause of unintentional injury death across all age groups. It is a leading cause of submersion injuries and death for young children ages one to four. For every child who drowns in a swimming pool, another ten children suffer submersion injuries requiring emergency treatment. Near-drowning can cause brain damage that results in long-term disabilities, including learning disabilities, speech problems, memory problems, and permanent loss of basic functions.
According to the USA Swimming Foundation, in 2018, at least 148 children under the age of 15 drowned in swimming pools or spas. Whether you're swimming in a public or private pool, or you are hosting guests in your own pool, it is important to understand your rights and responsibilities under the law.
Types of Swimming Pool Accidents
Most drownings occur near safety and are often preventable. However, according to statistics from the Consumer Product Safety Commission, approximately 5,700 children in the U.S. are treated in hospital emergency rooms each year for pool and spa accident injuries. These include drowning, slip, and fall accidents on wet surfaces, and dangerous pool drains and filters.
Drowning accidents may occur in all bodies of water, but the USA Swimming Foundation states that pools and spas are especially risky. Common accidents include:
Drowning. Someone who is submerged in water suffocates. When a death occurs within the first 24 hours after submersion, it is considered drowning.
Near drowning. If the victim survives for more than 24 hours after submersion, the accident is called a near drowning.
Drowning by entrapment. A suction force may lead to hair entrapment or entanglement. Serious head injuries or drowning may result.
Pool toy entrapment. Inflatable pool toys can flip or tangle, trapping young or inexperienced swimmers under the water.
Diving or diving board injuries. Diving in shallow water or from malfunctioning diving boards may result in serious head injuries and paralysis.
Swimming pool slides. These are particularly risky when the slide drops off into shallow areas, or people go down slides headfirst.
Slips and falls. These can be a result of slippery surfaces and in some cases, dangerous behavior around or in the pool.
Electrical defects. Malfunctioning electrical systems, combined with water, can have dangerous consequences.
Michigan Swimming Pool Owner Law
Owners of both public and private swimming pools can be held liable for their negligence for not maintaining a safe swimming pool. Many accidents happen in residential pools, but they also happen in hotel swimming pools, municipal swimming pools, and water parks.
Public pool liability
In public swimming pools, swimmers may be injured due to slippery pool floors or decks, poor lighting, lack of safety equipment, badly designed or marked pools, lack of adequate supervision and more. State and federal regulations mandate safety rules for public pools and related safety equipment. These rules deal with issues such as chemical consistency, supervision, and pool capacity. Michigan's public pool laws regulate the construction, operation, and use of public pools. In addition to complying with all state and federal regulations, a public pool owner must warn users of hidden dangers, such as water too shallow for safe diving.
The Virginia Graeme Baker Act is a United States law that sets forth requirements for drains in all public pools and spas. The law was named for a child who died when she was trapped underwater due to a spa drain.
Private Pool Liability
Most municipalities have safety regulations for residential pool barriers. Safety barrier guidelines are suggested by the Consumer Product Safety Commission. According to the CPSC, proper barriers to prevent children from gaining access to the pool is the best way to reduce pool accidents. These guidelines are not mandatory, but many states and communities have incorporated the guidelines into their building codes. Laws vary by state and locality. Residential pool owners should always check with local authorities to see what is required.
Whether or not guests are invited to swim, the pool needs to be safe. It should be well-maintained, and the owner should make reasonable efforts to control access to the pool. Usually, private property owners with a pool are required to have a fence with self-latching gates and effective pool covers. No matter what safety precautions are in place, it is essential for an adult to supervise children at all times when in or near a pool. An owner who fails to maintain a pool safely may be liable for negligence.
The owner of a private pool also has a duty to warn guests of any dangers that are not obvious. For example, if a pool owner knows of a broken pool ladder, the owner must warn others of the danger.
Generally, pool owners do not owe a duty to trespassers. However, one exception is children who are trespassing. Swimming pools can be considered an attractive nuisance. The term attractive nuisance means that certain things which are attractive to children, such as a swimming pool, might lead them to come on your property, even without permission. Therefore, the homeowner must take reasonable precautions to prevent children from entering and being injured.
Michigan Swimming Pool Injury Cases
Property owners must maintain their pool and the surrounding area safely. However, not everyone does, and as a result, people get hurt. Negligence may lead to drowning deaths and other injuries. A person who has been injured because of the negligence of others may be entitled to compensation from the negligent person. The negligence may consist of the failure to properly supervise a child, failure to properly fence in the pool, or failure to maintain the pool safely.
In these and other cases, the injured person may be able to file a lawsuit seeking compensation for medical expenses, pain and suffering, loss of income, and more. In the event of a death, the surviving family members can file a wrongful death lawsuit, seeking compensation for the pain and suffering of the victim, the loss of companionship of family members, funeral expenses and other economic losses.
Michigan's statute of limitations places strict time limits on the filing of lawsuits, so call an attorney for help now, before you lose your right to seek compensation.
You Need a Michigan Swimming Pool Injury Attorney
If you were injured in a swimming pool accident due to negligence, you may be eligible for financial compensation and should speak with an experienced, compassionate Michigan swimming pool injury attorney as soon as possible. For more information or a free consultation, contact us at Thurswell Law online or call (248) 354-2222. We are here to help you.