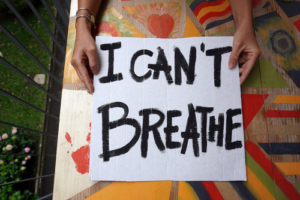 The Michigan Attorney General's Office has officially been asked to review the details surrounding a Ferndale man who died during a 2014 altercation with Northland Shopping Mall security guards. McKenzie Cochran's case came to light again in the wake of George Floyd's death and amid the protests against racism and police brutality. Now, the Oakland County prosecutor asked the state attorney general to review the case – and she has agreed.
What Happened to McKenzie Cochran?
Though the circumstances that led to two men being held and having their breathing compromised are different, George Floyd and McKenzie Cochran both have something in common: a preventable death at the hands of those who were supposed to protect and serve.
The 25-year-old Cochran was held face down on the floor of the Northland Shopping Mall outside of an LA Diamonds jewelry store by security guards after allegedly threatening the clerk at the store. Multiple security guards were on his back while Cochran said, "I can't breathe," but he ultimately died of asphyxiation. It's a situation that attorney Jerry Thurswell calls extremely similar to George Floyd's.
"His chest was compressed. He wasn't breathing. He said, 'I can't breathe.' What more do you need?" says Thurswell, the Michigan attorney who represented Cochran's family in a civil case that settled out of court. Cochran died one hour after his arrest and his death was ruled an accident.
What Happened to the Security Guards?
At the time of Cochran's death, Oakland County prosecutor Jessica Cooper did not bring criminal charges against the security guards in this case, saying that while the guards were poorly trained there was no intent to harm or restrict Cochran's breathing.
"It's the same case as Floyd," says Thurswell. "Why the Oakland County prosecutor decided not to issue charges six years ago is beyond me." Cooper, though she has long defended her decision not to charge the case, agreed to ask for the review largely following public pressure.
And now Thurswell has hope for what will come next from the current attorney general. "I think Dana Nessel is going to take this case and she's going to take the bull by the horns and she's going to prosecute," says Thurswell. "It's too bad that Floyd had to die to bring justice to the Cochran family. Maybe, if charges had been brought six years ago and the public was aware what happened, maybe the Floyd case could have been avoided."
What Happens Now?
According to AG Nessel, "My office will conduct a thorough and comprehensive review of this case to determine whether any additional action should have been taken in response to Mr. Cochran's death. If the evidence warrants additional action, we will make efforts to ensure justice is served."
Cochran's family is waiting for the justice they know they deserve. His brother, Michael, a former police officer, says, "Something should have been done. Something needs to be done – I just don't see how you cannot hold someone accountable for taking someone's life. My brother did not get justice."
While Cochran's brother believes any number of charges, from assault to involuntary manslaughter, could have been brought against the security guards, nothing happened. The Cochran family did file a civil suit against the mall, two related companies, and the security officers. They were represented by Thurswell and settled for a confidential amount.
If your family has been wronged, suffered police brutality, or is seeking justice, contact the Michigan personal injury attorneys at Thurswell Law to get compensation. Schedule a consultation by calling (248) 354-2222 today. We do not charge any fees until we win.