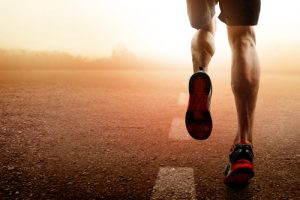 Parents of children with cerebral palsy are no different than any other parent: They only want the best for their child. But parents of children with CP are different from other parents because they know their child faces a unique set of challenges. Athletes like Justin Gallegos show that while every person with cerebral palsy has limitations, for many there are chances to do more than ever thought possible.
Persevering Though Living with Cerebral Palsy
Gallegos is the first athlete with cerebral palsy to sign a pro-contract with Nike. Hailing from Santa Clarita, CA, he is currently a junior at the University of Oregon where he is in the school's running club. He began running in high school but stumbled repeatedly as he tried to control his body's coordination. Gallegos persevered and eventually clocked a seven-minute mile unassisted.
Gallegos' next goal was to run a half marathon, and he got some help from Nike, who studied the runner's unique gait, designing supportive footwear that provided the right cushioning and stability and were easy to get on without help. Gallegos wrote of his achievement on Instagram:
"This was perhaps the most emotional moment in my seven years of running! Growing up with a disability, the thought of becoming a professional athlete is, as I have said before, like the thought of climbing Mt. Everest! It is definitely possible, but the odds are most definitely not in your favor! Hard work pays off! Hundreds of miles, blood, sweat, and tears has lead me here along with a few permanent scars!… Thank you everyone for helping show the world that there is No Such Thing As A Disability!"
The Reality of Living with Cerebral Palsy
Cerebral palsy is a neurological disorder that is often the result of a birth injury. The condition can vary greatly, from mild to severe, and affects motor skills, muscle tone, and movement. Someone with cerebral palsy may not be able to control their limbs, which makes Gallegos' achievement so much more noteworthy. This young man once wore leg braces and is now a runner.
Other milestones for people with cerebral palsy often make headlines, like the teen with CP who walked at her graduation. Not every child with cerebral palsy, however, has the chance to thrive. Some children with CP are so limited by their body that they cannot function on their own, speak or eat normally, or even get up and walk, let alone run. Other children are limited by the expense and access to quality medical care and equipment.
Getting Support for the Expense of Cerebral Palsy
When children with cerebral palsy receive an early diagnosis and their symptoms can be reduced with therapy, they have a very positive outlook for their future. The right medical treatment can help them attend school, mingle with their peers, and pursue their goals, depending on their form of cerebral palsy.
Some children with CP, however, are limited in what they can do or will ever be able to do. They are wheelchair bound or need around-the-clock care and will need help throughout their lifetime. The costs can be astronomical. Having a child with CP because of birth trauma that could have been prevented means a permanently altered life for your child and your entire family.
If your child developed cerebral palsy because of a birth injury or medical negligence, contact Thurswell Law for a free consultation with an experienced medical malpractice lawyer. You have the right to compensation for your pain and suffering, and your child has the right to a bright future. We do not charge any fees unless you collect. Call (248) 354-2222 today to schedule your consultation.