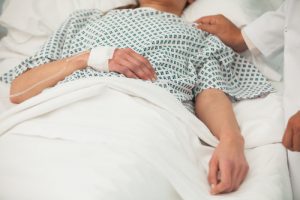 Hospitals are supposed to be a safe place where people go to get treatment and get well. Sadly, many patients get worse in the hospital. Nearly one in four admissions suffer adverse events, according to The New England Journal of Medicine. Nearly a quarter of these adverse events were preventable. Patient safety and continued improvement are critical – but are they being prioritized?
What Goes Wrong for Hospital Patients
The Journal article reports the following findings from a random sample of 2809 hospital admissions:
At least one adverse event occurred in 23.6% of cases.
Of 978 adverse events, 222 were considered preventable.
316 adverse events were serious and caused harm that resulted in substantial intervention or prolonged recovery.
Preventable adverse events occurred in 191 of all admissions.
Seven deaths occurred, one which was deemed preventable.
While these findings do not indicate that you shouldn't go to the hospital or emergency room if you are unwell, they are evidence that some healthcare professionals are not as skilled as they should be and some methods of intervention are poorly selected. Patients and their families suffer as a result.
Types of Adverse Events in Hospitals
The 1991 Harvard Medical Practice Study was one of the major publications to document that adverse events during hospitalization are a major cause of patient harm. Though patient safety has improved since the time that study was conducted, this doesn't mean all problems have faded away.
The Journal's retrospective study assessed the frequency, preventability, and severity of patient harm in a random sample of admissions from 11 Massachusetts hospitals in 2018. The most common adverse events include the following:
Adverse drug reactions (39%)
Surgical problems or complications from other procedures (30.4%)
Subpar nursing care, like pressure ulcers and falls (15%)
Healthcare-associated infections (11.9%)
Unfortunately, it's usually people who cause adverse events in hospitals. An overworked nurse, a tired doctor, a distracted pharmacist. We are all capable of making mistakes, but sick people and those in pain, along with their families, expect the very best care. When someone you love is hospitalized, you are only thinking of them and their needs – but healthcare professionals have more than just your parent, child, or sibling to tend to.
Improving Hospital Care
Reliability, efficiency, and developing and maintaining standards for the identification of preventable adverse events is critical, according to the Journal. The onus is on hospital administrators and healthcare staff, particularly those charged with improving safety, to get better at routine tracking, gather reliable data more frequently, and improve monitoring – all strategies that could reduce adverse event rates.
A safety culture and strong leadership where safety is concerned are also strongly encouraged to advance the performance of all healthcare professionals. The Journal's findings are an urgent reminder of the need for continuing improvement in the care delivered to all patients in all facilities.
Get Compensation for Adverse Hospital Events
There is always a need to improve healthcare. When you have suffered at the hands of incompetence or poor medical care, or have lost a loved one to a preventable adverse event, contact the Michigan personal injury attorneys at Thurswell Law to get compensation. Schedule a consultation by calling (248) 354-2222 today. We do not charge any fees until we win.