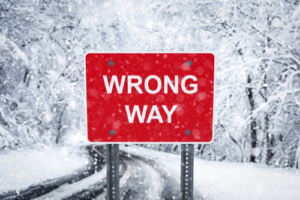 On January 6, 2019, a Michigan family driving home from vacation were struck head-on by a wrong-way driver on a Kentucky interstate. The entire family was of five was killed when their car went up in flames. The driver of the pickup truck also lost his life. Wrong-way accidents are not as common as drunk driving car accidents but when they do occur, the results are almost always fatal.
The Terror of Wrong-Way Driving
Have you ever held your breath while driving because you turned the wrong way down a one-way street? Have you ever gasped to think that you took an exit ramp instead of an entrance ramp to the highway? Mistakes happen, but they do not always come without consequences. Distraction is a contributing factor, but knowing where you're going, being an experienced driver, and staying sober all affect your decision-making while driving.
Going fast the wrong way on a highway is a death sentence for a drunk driver, and anyone who is unlucky enough to be in his path. Witnesses of the accident that killed the Abbas family – Issam, 42; Rima, 38; Ali, 14; Isabella, 13; and Giselle, 7 – say the driver of the pickup truck that struck them head-on while moving in the wrong direction was traveling at an incredibly high speed. Authorities suspect he was under the influence.
The Tragedy of Drunk Driving
Drunk driving kills thousands of people every year. In 2016, there were 10,497 people killed in alcohol-related car accidents, according to the Centers for Disease Control and Prevention (CDC). More than 1 million drivers were arrested for driving drunk or impairment. To put that number in perspective, there were 111 million self-reported episodes of drunk driving among U.S. adults.
Self-awareness obviously exists if 111 million people admit to consciously getting behind the wheel of a car while drunk. Knowing and doing are two different things, however, and clearly some motorists choose to make poor decisions about drinking and driving.
Why do people drive drunk? It seems like a ridiculous question to ask. But considering what contributes to this epidemic could help prevent more fatal drunk driving crashes. Taking the keys away from even one person can save lives.
Just some of the reasons people report driving drunk:
They thought the alcohol didn't affect their driving ability.
They had no other way to get where they were going.
They were less drunk than the other people in their party.
There weren't any designated drivers.
They didn't have the app for an Uber or the number for a cab company.
They had to get somewhere quickly and couldn't wait for a ride.
They've gotten away with it before.
The CDC reports that 29 people in the U.S. die in motor vehicle crashes that involve an alcohol-impaired driver. That's one death every 50 minutes.
Get Compensation for Your Suffering After a Car Accident
Staying alert, driving sober, not driving while tired, and freeing yourself from distractions are all essential to safe travel. Not everyone follows these behaviors, and you can only control your own actions on the roads.
If you have been involved in a wrong-way crash or a drunk driving accident because of the negligence of others, or if you have lost a loved one in a fatal car crash, speak with an experienced auto accident attorney. Contact Thurswell Law for a free consultation to discuss your case. We do not charge any fees unless you collect. Call (248) 354-2222 today.